Functional training exercises are movements that suit the functional activities you do in your daily life. It includes movements for strength and power, balance and core, flexibility, and different muscle groups. It's about progressive training; you want to improve and continue to challenge yourself, so the equipment needs to be able to develop with you.
Some examples of what you can do with functional training equipment include bodyweight training, kettlebells, suspension systems, medicine balls, dumbbells and barbells, and cable machines.
Here are the top 10 functional training equipment to check out:
Escape Octagon Training Frames - Best Functional Training Rig
A training rig is a large piece of equipment that sort of looks like a jungle gym. Sometimes called modular gyms, individuals can modify their workouts using the equipment, accessing a variety of tools to build strength, tone up, and work on flexibility. It might include things such as suspension trainers, plyometrics, weights, medicine balls, punching bags, and more.
The training frames from Escape Fitness offer some of the best functional training equipment for body conditioning and cross-training. You can choose from all the equipment you need for a varied workout, whether you want to get back in shape or work on a specific area or movement.
The frames are professionally welded by master crafters using quality materials and the highest standards. This makes for seamless-looking rigs that are strong, sturdy, durable, and nice to look at.
In terms of equipment, you can choose from pull-up bars, suspension cables, medicine balls, kettlebells, a variety of barbells and dumbbells, catch straps for resistance bands, core bags, punching bags, TRX anchors, rope pulleys, and monkey bars. Various units offer space for plate storage, rack arms, and holding bars, and can accommodate up to 18 users.
Inspire Fitness FT2 - Best Functional Trainer Machine
Sometimes called cable gyms, functional trainer machines feature cables and pulleys to help individuals work various parts of their body through a wide range of exercises. These versatile machines allow users to do rows, bicep and hammer curls, lateral raises, shoulder presses, cable flys, and squats, leg raises, glute kickbacks, and more. They are great for total body workouts.
This FT functional trainer from Inspire Fitness includes an Olympic pull-up bar, smith bar, dual weight stacks, six pulleys with rubber D handles, SCS bench with leg extension attachment, abdominal bar, tricep rope, ankle straps, and multi-function belt. A steel ball-bearing system maintains a smooth movement throughout the exercises.
Some of the highlights include the pulley system's 32-position adjustment and the leg extension attachment. Also, you won't need metal plates clogging up the frame thanks to the Olympic bar and weight stacks.
You can add a preacher curl attachment to the SCS bench to incorporate more upper body exercises into your routine, as well as adjust the pull-up bar to accommodate the ceiling height of your gym.
XMark Functional Trainer Cable Machine - Best Dual Cable Cross
A cable machine is a must-have for those who want to train their upper body. The cables and pulleys allow you to work your arms, chest, shoulders, and back from different angles, giving you an unlimited range of motion and helping you work those hard-to-reach areas. A dual cable cross-system needs to be easy to use while still allowing for innovation and individualized workouts.
The XMark Functional Trainer Cable Machine is a great choice due to its versatility and customizable settings. It has a weight capacity of 1,500 pounds, a seven-position adjustable bench, and a three-position adjustable seat. Accessories include a chinning triangle, triceps rope, grip handles, dual 200-pound weight stacks, and a pulley system with 19 settings.
The cable machine includes a pair of hand straps, long strap handles, a short and long bar, a leg extension curl strap, and an ankle strap. The steel frame combined with the commercial-grade pulley system and rig creates a safe and easy to use a gym, perfect for homes or fitness studios.
Torque Tank M4 GT - Best Tank Sled
A tank or all-surface sled is a muscle-building, speed boosting, and endurance training piece of equipment. It's essential for those looking to build their stamina and condition their body for greater athleticism. Tank sleds allow you to push or pull massive weight, or you can use it as an anchor for your battle ropes exercises.
The Tank M4 GT sled from Torque is a crowd favorite because of its revolutionary wheel design and its accompanying accessories. Everyone from gym rats to personal trainers to professional football teams has used this Torque tank sled to improve strength and transform themselves into a better athlete. It's great for individual and group training, allowing for cardio, strength, and rehabilitation exercises.
It's important to note that the Torque tank sled has superior cutting and decelerating, making it safe and responsive, so much so that it's used by seniors and those recovering from injuries.
At 249 pounds, the Torque Tank M4 GT comes with two V-strap handles, two padded waist harness and tow straps, two tow ropes, two cable locks, and crash bumpers.
The wheels allow individuals to use the tank indoors or outdoors, on concrete, grass, turf, or gym mats. It comes with four difficulty settings that rely on magnetic resistance, so you'll always be able to challenge your muscles, speed, and endurance.
TRX Tactical Gym Suspension Trainer - Best TRX
A TRX machine is a suspension trainer that was inspired by the physical training of the Navy Seals. Today you can find a TRX machine in many gyms around the country, as well as in-home gyms. The suspension straps come in varying lengths and resistance levels so you can find the one that fits your body best.
TRX is great for bodyweight exercises and can hit just about every muscle in your body, including core, arms, legs, and so on. It's also great for flexibility, balance, and circuit training.
The Tactical Gym Suspension Trainer is the superior TRX option. Sleek in design, it is strong, portable, and built to last. It comes with a door anchor, TRX anchor, and extension anchor so you can safely use it almost anywhere. The straps have barrel locks for easy adjusting, as well as heavy-duty reinforcements for tough as nails workouts.
The Tactical Gym Suspension Trainer comes with a mesh carrying bag so you can easily take it with you to the gym, your home, or out and about. It eliminates your ability to make excuses for not working out, too!
Tire Flip 180 XL - Best Flipping Tires
Tire flipping is an excellent exercise for people who spend a lot of time sitting down, as it works the lower body, giving the glutes, quads, calves, and hamstrings an intense workout. You might have seen flipping tires at Bootcamp classes, your local gym, or online. If you're a gym owner or personal trainer, you'll want to have a variety of flipping tires available for your clients.
If you're just shopping for yourself, you want to make sure that you choose tires that present you with a challenge, but won't be so heavy that you injure yourself trying to lift them.
You can get a tractor or truck tire for absolutely free if you go to a Pep Boys, Home Depot, or car garage in your neighborhood. Most places have tires they're willing to give away for free or for just a few bucks. On the other hand, the Tire Flip 180 XL is a great tire-flipping machine that replicates the experience of tire flipping while allowing for weight adjustments.
This means that you don't need several huge tires taking up physical space, and you can accommodate a variety of strength and fitness levels.
This machine also ensures user safety while still giving them the benefits of tire flipping exercises. The starting resistance is 160 pounds and goes up to 240 pounds.
SYNRGY360 XL - Best SYNRGY360

The SYNRGY360 system is designed for group fitness, but it also works well for one-on-one training and individual workouts. This is a modular system that offers unlimited possibilities for cables, resistance training, and more.
The SYNRGY360 XL is made up of "multi-jungles" for a fun and exciting workout each time. It's impossible to get bored with this modular gym, which offers a variety of optional features such as boxing bag connectors, TRX rip trainers, kettlebells, medicine balls, and rope pulls.
The SYNRGY360 XL comes with a suspension chin-up bar, accessory shelves, cable crossover connector, adjustment columns, battle rope attachments, step-up platform, dip handle, power pivot, and stall bars.

You can use the SYNRGY360 XL for pull-ups, tricep dips, core exercises, low-impact cardio, rows, flys, rebounders, box jumps, kettlebells, heavy bag punches and kicks, battle ropes, and more.
Fitness Reality X-Class Olympic Power Cage - Best Half Cage
This commercial quality cage has a 1,500-pound weight capacity and solid steel construction. It comes with a pair of J-hooks, high-density rubber grip dip handles, two 11.5" safety bars, and two 35.5" dual safety bars. The cage also includes two height-adjustable chin-up/pull-up bars, Olympic lat pull down, and low row cable attachments.
It's an ideal piece of equipment for those looking for an intense upper body workout and doesn't want to leave any muscle in their back, shoulders, chest, or arms untouched.

The cage frame has pre-drilled holes for easy bolting to any floor, and the safety bars are reinforced with rubber strips to prevent loud clanging, banging, and dents. The wide design also makes it great for squats and other lower body exercises, making it a versatile addition to any gym.
Rep Fitness AB-3000 FID - Best Adjustable Weight Bench
This adjustable bench can be set to seven different ladder positions ranging from -20 to 85 degrees, as well as five-seat adjustments.
Capable of supporting up to 1,000 pounds, the bench allows you to choose from the incline, flat, or decline positions for a variety of weight-lifting exercises. The pads and foot rollers are covered in premium grippy fabric for a slip-free workout even with excessive sweat.
This bench is IPF and ASTM-rated and approved for dumbbells, cages, power racks, and smith machines, as well as bodyweight exercises. Ergonomic back support ensures you stay safe, comfortable, and supported throughout your movements. Rear wheels make it easier to transport while abrasion-resistant chrome keeps it looking good for years to come.
LIFT Compact Shelving - Best CrossFit Storage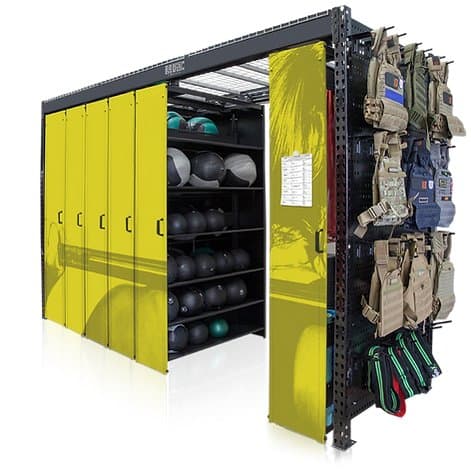 The LIFT compact shelving system from Spacesaver Corporation allows Crossfit gyms to store all of their accessories and equipment in a neatly organized, visually appealing, and space-saving unit.
The system can be designed to fit any size gym, and you can even add additional overhead racks for more storage space. The modular components can be mixed and matched to hold things such as medicine balls, cables, ab mats, harnesses, and more.

The unique lockers will hold long, vertical equipment, while the shelving units can hold weights and kettlebells. Athletes just need to walk up, take what they need, and get on with their workout. No more fumbling around bulky shelves and racks.
What's great about the LIFT compact shelving is that it makes more use of vertical space, allowing more overall surface area for workouts and other Crossfit equipment. Hanging storage, shelves, and pallet racks will hold the bulk of your Crossfit accessories, and the overall design is sleek and modern with standard dimensions of 12' x 8' x 4'.
Hopefully, you were able to spot some great options for your personal training business, home gym, or fitness studio. Whether you have tons of Crossfit accessories, loads of free weights or you need some new and improved workout gear, this guide has the latest functional training equipment that will keep you and your members coming back.
There are other options available from the brands mentioned here, just in case you're on a budget or have specific needs. At the end of the day, everyone deserves access to top-of-the-line workout equipment, and functional training gear is suitable for all ages and activity levels.
Learn More: