With the cost of a gym membership on the rise, a significant number of fitness enthusiasts are choosing to train at home. And because you can enhance your physique using free weights, you can just purchase a set of dumbbells, a weight bench, and a few barbell weights and you are good to go.
While there is nothing wrong with this at all, you will also want to consider the prospect of having a highly versatile, all-in-one workout equipment that can enable you to do a spectrum of exercises and help transform your physique accordingly. If this is the case, then you'll definitely consider buying a multi station gyms.
A multi-gym is typically a bunch of weight machines for sale that has been integrated into fully-functional equipment. Previously used by professional bodybuilders, these versatile pieces of equipment have gained lots of popularity in the last few years, thanks to the vast benefits they offer. 
Here are the best multi gym machines you can buy at any price point:
1. Marcy Cage Smith Workout Machine Total Body Training System
What's the Price?
Cage Smith is relatively more expensive and currently costs around $1019 on Amazon. However, if you consider the features and the level of performance that it brings on board, Cage Smith is surely worth every single penny spent on it.
Pros
Marcy is a reputable brand and a household name in the fitness arena. The company produces top-notch, highly durable and performance-oriented weight training equipment.
The Cage Smith is its typical product, boasting an all-steel construction, dual-action leg developer, multi-functional press arms and a pivot point that facilitates proper body form during training.
Simply put, it is an all-in-one workout station worth your investment. It is the most versatile, durable and strongest home gym equipment that Marcy has to offer.
There is nothing negative to say about the build quality if this efficient machine. Boasting high-grade steel, a user limit of 600 pounds, numerous attachment safety features, extreme comfort and a tensile cable strength of 2000 pounds, the Cage Smith is a home gym worth your consideration.
This Marcy home gym brings onboard numerous workout stations such as dual-action leg developer, a diamond-plated non-slip foot brace for seated rows, a preacher and bicep curl bar, a multi-function bar, low pulley station, cable-cross dual pulley system, a cable routed pectoral fly station among others.
It only means that you can work out every type of muscle in your body with this versatile device at your disposal. It includes six weight plate pegs artistically built into its frame, allowing you to organize barbells on the machine effortlessly.
This amazing model also comes with many brake systems, safety pins, and stops, all designed to keep you safe and prevent the weights from crashing down on you.
Overall, this is an innovative device and complete training system that integrates leg and arm stations into comprehensive workouts, allowing you to train all sorts of your core muscles without the need to switch between different machines.
2. EXM3000LPS Body-Solid Double Stack Home Gym
What's the Price?
Regarding price, this machine is highly-priced and costs $2895. However, if you take into account the features it brings on board, it worth it. It allows more than two people to train simultaneously, boasts durable construction and is covered by a good warranty.
It represents the perfect way to get your family started in the world of fitness and bodybuilding.
Pros
If maximum strength and a training session full of a spectrum of workout options are what you want, then look no further than the EXM300LPS Body-solid home gym. It is a robust piece of equipment that guarantees superb quality strength training for up to three users simultaneously.
It boasts a multi-function press arm station for bench press, chest-supported mid-row, and shoulder press exercises. The fully adjustable pec station with excellent range limiters allows you to effortlessly achieve deeper muscle training for faster and more refined results. The calf/leg press station operates on a 2:1 weight ratio and this offers this home gym an amazing capacity of a 420 lb leg press.
Its double 210 lb alloy steel weight stacks are fitted with a state-of-the-art nylon bushing for quiet and super-smooth operation. The multi-press station is biomechanically, structurally and ergonomically designed for optimal chest, shoulder and back concentration.
The calf/leg press station features a unique two-bar linkage which self-aligns the leg angle to the user's body to eliminate ankle torsion and ensure proper biomechanics throughout the complete range of motion.
Its leg extension station is cam-driven to allow you to work your hamstrings and quads while developing unrivaled knee strength in a precise biomechanical way. Overall, this is a fantastic home gym machine that has seven different stations specifically crafted to target various muscle groups.
3. Life Fitness G2
What's the Price?
The G2 is a relatively affordable home gym and only costs $1399 on Amazon. What's even more impressive about it is that it comes with a lifetime warranty on its frame, pulleys, welds, and parts.
Pros
The G2 home gym has a solid reputation as a highly effective strength training device. It is a functional machine that features upgradable resistance capacity. It offers 25 exercises ideal for a full-body workout.
The G2 not only boasts a compact and sleek design but comes equipped with an upgradable weight stack that comes at a standard weight of 160 pounds but you can increase it to 210 pounds.
It supports a weight limit of 300 pounds. It comes with mid and high-pulley stations, a curl and leg extensions, chest press and arms press. You'll also get a lat row bar, lat bar, ankle strap, and a useful exercise booklet.
It is an extremely versatile device that targets numerous muscle groups in your body including lower body, biceps, chest, obliques, shoulders, triceps, and back muscles.
4. 820 Precor Multi-Gym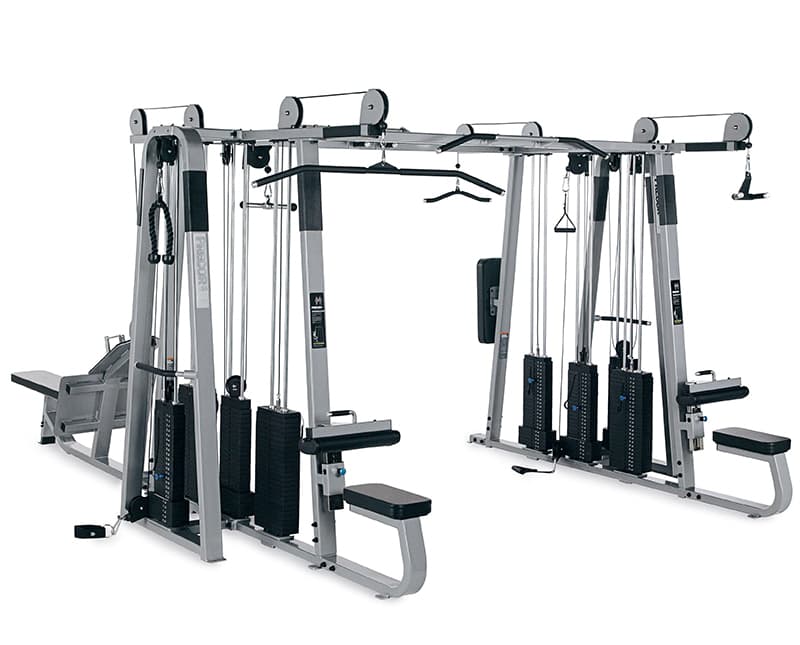 What's the Price?
With all these amazing features at its disposal, you'd expect this incredible fitness unit to cost a fortune, which it does. You'll need to part with a cool $9999.00 of your hard-earned cash to own this equipment. It comes covered by a one-year warranty on parts.
Pros
Precor designs and constructs premium commercial fitness machines for workouts that feel natural and smooth. Their professional gym equipment is always preferred by hotels, spas, fitness clubs and proven fitness enthusiasts across the globe.
The 820 multi gym is its typical product, incorporating ergonomic motion, proven science into its superior design.
This is a commercial-grade high-end machine. It is a piece of eight-stack, ten-station equipment that provides maximum versatility for every user. The cable crossover station features seated and standing tricep pushdown stations, fixed high pulleys, long-pull and pull-down stations, low pulleys as well as two pulley stations for a wide range of exercises.
If you are venturing into a commercial fitness business, the Precor 820 multi-gym might just be what you need.
This top-notch equipment boasts premium-quality upholstery with the beauty-guard protective top-coat finish. It features precision motor-grade ball bearings and glass fiberglass-reinforced nylon pulleys. Its oversized linear ball bearings are self-aligning, promoting a hitch-free training session.
5. H 4400 Hoist 4-Stack Multi-Gym
What's the Price?
Price-wise, this multi-station equipment is fairly more affordable. It costs around $6999.99 on Amazon. It is an all-purpose weight training machine worth your energy, money and time.
Pros
Hoist's innovations in commercial strength training machines trickle down into its H 4400 4-stack multi-station equipment, which artistically designed to ensure the most efficient, ergonomically correct workout experience.
Constructed with the same smooth, quiet and super smooth motions that have become the Hoist trademark, this amazing device is arguably the most up-to-date premium four-station multi gym for light commercial settings.
The pillow block bearings and a four-bar linkage system at its disposal offer smoother motion and enhanced durability. The self-aligning foot plate adjusts automatically during workouts to follow a natural movement of your leg, taking the strain off your ankles.
The highly adjustable back pad accommodates different users of different sizes and supports pre-stretch adjustments.
The unique patented three-D articulating press arm enables to control both the angle and arc of the exercise path. The mid and low-pulley stations allow you to conduct multiple upper and lower body exercises using a range of attachments. The double-adjusters on the back pad provide both angular and telescoping for proper back support and positioning.
The patented leg extension arm features an integrated cam to prevent resistance drop off at the end of every exercise movement. The telescoping roller pad automatically adjusts to offer proper positioning for standing leg curls and leg extensions.
What's more, the pulley adjusts to twenty-two different positions whereas its split weight cabling eliminates resistance by up to 50% to accommodate a greater number of trainers.
6. TechnoGym UNICA
What's the Price?
With a price tag of $5,390, although the muscles might come easy with the Unica at your disposal, the machine itself won't come cheap!
Pros
If money isn't an issue, then the UNICA from Technogym is well worth looking at, as it straddles a fine line between commercial fitness equipment and a piece of contemporary art!
With premium construction to rival top commercial standards, this versatile training equipment deserves its position as one of the most comprehensive weight and muscle training systems currently ruling the market.
Boasting intelligent engineering, the Unica is a compact machine with a 90kg weight stack that allows more than 2 exercises in a space of just one and a half square meters. It includes a stretching mat, ankle strap, pulley, and standard handles, instructional video, maintenance kit, and integrated wheels for easy mobility.
With gorgeous leather pads and the imposing metallic design available in numerous hues, the Unica practically oozes class.
It supports more than 25 strength-building workouts, including leg and shoulder extensions and chest exercises. It is equipped with an adjustable seat, weight stack, anatomical backrest, standard and pulley handle. A great multi-station machine allows you to work out your largest muscle groups and carry out complex movements. That's exactly what the Unica does!
Why should you invest in multi gym equipment
There are potentially endless reasons why you would want to buy a multi gym. These fantastic pieces of equipment are a great way to get in shape, tone up a range of body muscles and get that ripped physique you crave.
Their versatility means that you can seamlessly perform several helpful workouts on the same single machine from the comfort of your home.
Multi gyms are equally cost saving. Today, sport center memberships can get costly, so having your home gym makes lots of sense financially. And with such a level of convenience, you will likely get the best out of it as well.
What's more, it doesn't matter how established you are, they offer something for all fitness fans. They are highly adjustable and can accommodate people of all shapes and sizes. Whether you are a passionate teen, a tall bulky dad or a middle-aged mum, you'll enjoy a safe and effective workout regimen with a multi-gym at your disposal.
Finding the perfect multi-gym: Factors to Consider?
Multi gyms massively vary in price, range of workout options, build quality and appearance. Simply put, the market is so huge, implying that the prospect of finding the perfect machine can sometimes prove to be a daunting task, especially if you aren't tech-savvy. Below are some of the most essential factors to consider when buying a multi gym.
Which type is best for you?
Simple single station multi gyms featuring single weight stack are arguably the most common. Of course, there are other options such as multi stations, dual stations, leverage machines as well as functional trainers.
The single station design might appeal to both beginners and advanced fitness fans depending on your budget. Generally, they are relatively more affordable and space-friendly as well.
On the other hand, multi stations boast more than one exercise are and may also have more than a single weight stack to accommodate multiple users at the same time. What's more, they support additional highly effective exercises such as a pull-up station or a leg press. However, they will take a lot of space.
Functional trainers are comparatively more versatile and feature two height-adjustable cable columns each featuring a weight stack! They support a broad range of exercises and some models come equipped with a removable weight bench for enhanced diversity. They are expensive but if you mean business, they can be a fantastic addition to your weight training regimen.
Lastly, leverage machines can well be described as hybrid multi gym machines. They don't feature a fixed weight stack, instead, you simply slide weight plates for the needed resistance.
All the available workout stations are somehow fitted into a fixed plane of motion to allow you to carry out a range of exercises including lat pull-down and chest press. Thanks to their high level of safety, they are perfect for lifting heavy weights on your own at home.
What range of exercises do you need?
The right set of exercises can be the difference between effective and ineffective workouts. Your multi gym machine should at least incorporate these sets of stations into its functionality: Pec dec, chest press, leg developer, high pulley as well as low pulley.
These features should give you a great core group of exercises. Of course, if you have a few extra bucks to spend, you can also look for additional features such as leg press and shoulder press.
Weight Stack: This is arguably the most essential feature you would want to critically consider. A host of multi gyms uses a vinyl weight stack whereas high-end machines come equipped with cast iron. Provided you have the right amount of weight according to your demands, this shouldn't be an issue.
Adjustability: Your body ergonomics is another important topic altogether. Your body should always be aligned at the correct position on any gym equipment and multi-gyms aren't an exception. Proper body alignment on a gym machine not only ensures you are exercising the right set of muscles but helps prevent unnecessary injuries. Purchase equipment that features a seat-height adjustment.
Cables and pulleys: If you didn't know, pulleys and cables play an important in the overall performance of your multi gym. Cheap models are usually fitted with plastic nylons with low-quality cables that create lots of resistance to the weight, making the weight seem heavier than it should. If you want a seamless feel during your training sessions, choose gym equipment fitted with tensile aircraft cables and bearings that equally add to their longevity.
Quality is paramount: You want to invest your hard-earned cash on high-quality equipment that is built to last. Look for a robust machine that boasts solid welds, heavy-gauge tubing, and steel framework. On most occasions, the maximum user capacity should tell you how solid and stable the equipment is. The higher the user-limit the more durable and stronger the machine is.
Benefits of a multi gym in your home
It guarantees a full-body workout: Multi-gym machines allow you to train every core muscle of your body. You'll engage in several efficient exercises that support a total body workout.
Convenience: With a home multi-gym at your disposal, you are at liberty to exercise at any time and for a maximum number of hours depending on your fitness goals.
Durability: Most multi-gym equipment is built to last, allowing you to maintain a healthy living throughout your entire lifetime. What's more, you'll not have to spend any extra cost to meet your fitness objectives once you have a multi-gym at your disposal.
Safe and offer ease-of-usability: Anyone who has ever lifted those heavy barbells and dumbbells can tell you how hectic they can get. They are not only difficult to use but equally pose injury threat, especially for beginners. Multi-gym stations are comparatively easier to use and require a lot less balance and coordination.
Allows you to burn fat and build muscle effortlessly: These unique weight-strength training machines are a great way to burn those stubborn fats, build muscles and get ripped! This is because they use weighted resistance for all of the workouts, implying that one can easily raise the resistance as you get stronger and stronger.
Cost-saving: With the cost of a gym membership on an upward trajectory, multi-gym machines offer the most economical way to stay fit and remain in shape.
Whether you are an established gym owner or an aspiring fitness enthusiast, you have every reason to purchase home multi-gym equipment. We have provided you with an extensive review of a total of six highly versatile, effective and performance-oriented machines. You can never go wrong with any of them at your disposal.
Learn More: