Commercial Gym Equipment Packages | Gym Setup For Sale
With decades of experience in helping people open their own gym, NtaiFitness always create Custom Gym Equipment Packages that are tailored to meet the specific needs of each new gym owner. The following are some of our most popular sample gym equipment packages. There are pieces of equipment that are a great fit for small, mid-sized & large start-up gyms. Take a look & see if one of these will meet your needs, take advantage of our heavily discounted gym package pricing!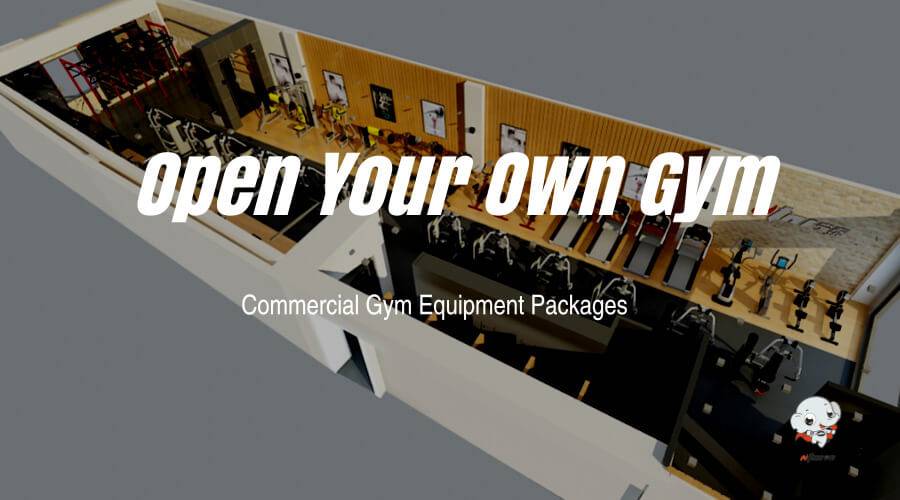 These Sample Packages are a great place for you to start because they give you an idea of what works in a small, mid-size and large-size gym. You can adapt this to your own room so that your new gym is the special place to train and get fit.
Our Complete Gym Equipment Package are customizable – let us help you make your own.

Open Your Own Gym, and If you have a specific blend of fitness equipment in mind, let's talk and we can design a custom gym equipment Package that is a perfect fit. Don't worry, we can still take advantage of volume discount purchasing and save you a bunch through our connections with China fitness equipment manufacturers that we have developed over our thirty plus years in the industry.
The Premier Commercial Gym Equipment featured on NtaiFitness is the absolute best equipment on the market today. Our State-of-the-Art equipment is made to meet the demands of fitness experts who expect the very best performing equipment. Only the best equipment goes into our gym equipment packages.
Wanting to start your own gym?
For the new gym owner, the Impact Fitness Triumph Series equipment has modern styling. Styling that sets the gym apart from what is seen in everyday gyms. This is very important to the gym owner. The first impression that a prospective new member gets when they first enter a gym often determines whether or not they decide to join. Commonly found equipment brands make the statement that the gym is the same as every other gym in the area.State-of-the-Artequipment tells the prospective member that they have entered someplace special that they'd like to show to their personal trainer. Maybe even to find a personal trainer to show them this great new gym. This initial impression can make a huge impact on their decision on which gym to join.
Having the best, modern equipment also lets your existing members know that they belong to afirst-classgym. A gym where the owner is enthusiastic about fitness and about the gym. It shows that you, the owner, care enough about the gym to use only the best equipment for your members to train with. Our equipment sends this signalstrengthand promotes a rich environment of enthusiastic, energetic members who are confident that they are working out on equipment that is superior to the same old equipment found in so many other gyms. Our equipment helps you not only to get newmembersbut to retain the members that you already have! This is an essential element to thelong-termsuccess of any gym.
Premier Commercial Strength Gym Equipment – Small Package
or those looking for the very best in state of the art design, safety,andfunction. Nowyou can "Start Small and Still Have it All" with our NtaiFitness.com Premier SmallStart-UpGym Package! Featuring the BEST in commercial gym quality strength equipment. With Triumph Series by Impact Fitness Equipment, your new gym will have the modern look and superior functioning equipment. This helps your members get the most enjoyment and performance from their workout. With weight stack stations, free weight equipment, and a varied mix of cardio machines, our Premier SmallStart-UpGym Package has all that you need for personal training or a smaller club environment.
Premier Commercial Strength Gym Equipment – Mid-Sized Package
For those looking for the very best in state of the art design, safety,andfunction. ImpactFitness Equipment's Triumph Series strength line is precision engineered to offer the utmost inhigh-enddesign and function for premier gyms. Features such as large 2 x 4 11 gauge oval steel tubing frames, clear and concise instructional placards, converging and diverging axis planes, fully enclosed weight stack shrouds with 16 gauge steel rear panels, flanged steel end caps on handles to prevent the user's hands from slipping during the exercise and more make the Triumph Series the #1 choice for exercisers and owners alike.
Impact Fitness Triumph Series turns any gym into a beautiful showroom of biomechanically sound strength equipment!
Premier Commercial Strength Gym Equipment – Large Package
For those looking for the very best in state of the art design, safety,andfunction.
Impact Fitness Equipment's Triumph Series strength line is engineered to offer the utmost inhigh-enddesign and function. Ideally suited for premier gyms and fitness centers where nothing but the best will do. This equipment is built to accommodate various user sizes, (including larger individuals), and is structurally sound. The equipment is aestheticallyappealingand functionally accurate. Featuring the samehigh-endplacard, axis planes, weight stack shrouds as ourmid-sizedpackage above. All usinghigh-qualitymaterials and component parts. Finished with the elegant look and durability of the IMPACT FITNESS Triumph Series. All that turns any gym into a State-of-the-Art showcase of ergonomically and biomechanically sound gym equipment.
wholesale gym equipment packages