Chest Press Machine for Sale, Buy Chest Press Machine Workout Machine Online
Chest press machine ROCKBOYE-1001 is the best chest workout machines. All our designs are according to human exercise physiology principle designed for complete accord with human body muscle. As we all know, quality is the best point for a gym. We use our honesty to get the high reputation and long terms customers.
Chest Press has independent converging arms that produce a natural pressing motion.
Product Features
Pin loaded fitness equipment/gym equipment
Professional design from famous brand
High-quality steel tube Q235 with 60*110 / 41.6*70 mm
Two-layer coating and health powder with free-lead and free-mercury;
Simple structure, easy assemble and more durable stability
Can re-increased Weight stack to 120kgs
Make the body cooperate with the machine very well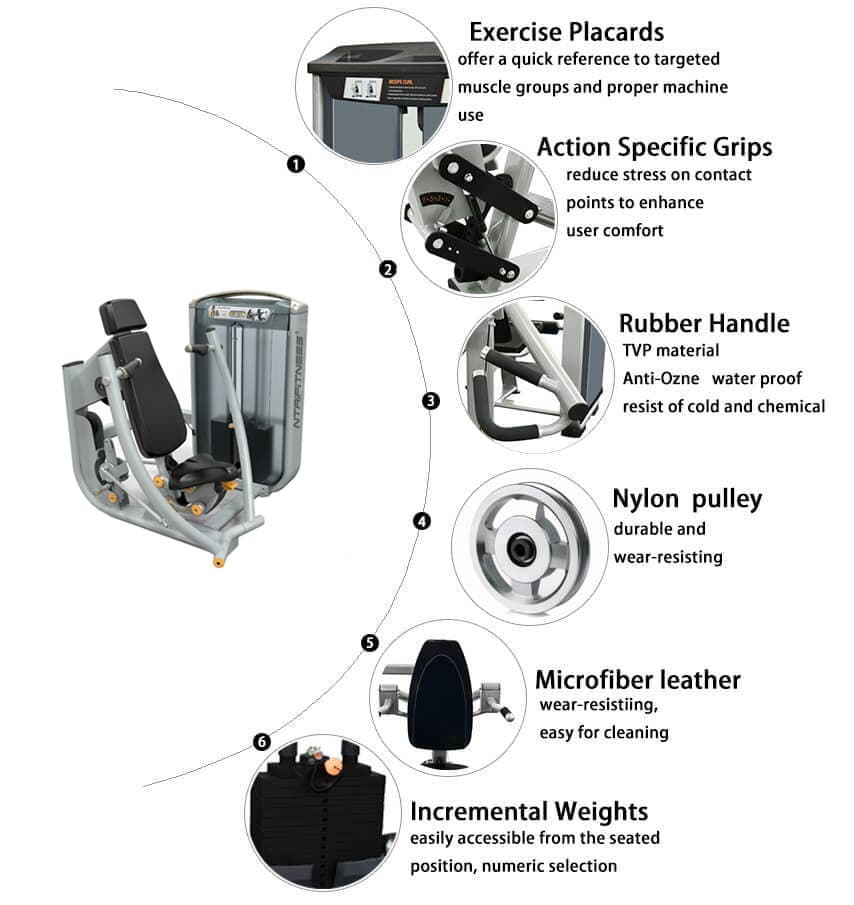 Technical Specifications
| Technical Specifications | |
| --- | --- |
| Dimensions (L x W x H) | 1499*1462*1296 |
| Machine Weight | 297kg |
| Weight Stack | 100kg |
| Cushioning | Contoured cushions utilize a molded foam for superior comfort and durability Pads have plastic backers to protect and increase durability |
| Instructional Placards | Easy-to-follow instructions illustrate proper use and muscles trained |
| Hand Grips | Grips retained with aluminum collars, preventing them from slipping during use; Hand grips are an extruded thermo rubber compound that is non-absorbing and wear-and-tear resistant |
What is a Chest Press Machine?
The Chest Press Machine comes useful when you do not feel 100% comfy doing the barbell or dumbbell bench press when you wish to load very bigger weights and you cannot find anybody to spot you. In this exercise, the movement comes from the elbows and shoulders. The chest press machine is probably one of the most popular of the weight lifting machines, however, the average newbie will skip over the iron dumbbells and barbells in favor of the easier, simpler to use machines.
The seated chest press machine is an upright version of the standard lying bench press machine. The arms, placed under a weight-bearing load, are pushed away from the chest and returned to starting position. The chest press helps build the pectoral muscles as well as the biceps, deltoids, and latissimus dorsi muscles. The same exercise can be performed on a bench using either a barbell or a pair of dumbbells as well as on a cable machine.
Types of Chest Press Machine:Vertical Chest Press Machine、Incline Chest Press Machine、Decline Chest Press Machine、Lying Chest Press Machine
What Muscles does the chest press machine work?
Major muscles used in the chest press machine are pectoralis major, minor, serratus anterior, anterior deltoid, all three heads of the triceps, and forearm muscles for grip and stabilization.
Chest Press Machine Benefits
The chest press machine is valuable for individuals simply starting to lift weights or those who are coming back after a long break. The adjustable seat and fixed positioning of the handlebars help you in maintaining proper form as well as avoiding injury.
This avoids you from cheating by shifting weight to other muscles, and also fully isolates the chest. A lot more experienced exerciser who want to lift a lot of weight but do not have a spotter might additionally find the vertical chest press easier as well as safer to maneuver.
Here are many benefits of the chest press machine.
Other benefits of chest press machine include:
The chest press machines give you a mechanical advantage, allowing you to push heavy weights and without worrying about balancing a barbell.
The chest press exercise is safer, easier to isolate targeted muscles with machines and more time-efficient.
The chest press machine will not alert you if one side of your body is pushing harder
The chest press machine will save you a few mins each workout – time that can be spent pushing out a couple of extra reps instead.
The chest press machine removes the struggle as the weight is already balanced, allowing you to focus on squeezing your pecs and progressing to heavyweights.
The chest press machine allows you to exercise your pectorals without worry of a barbell crashing down onto you and causing serious injury.
The chest press machine did rate as more effective than inclined dumbbell chest flyes, dips and several variations of the pushup.
The chest press machine targets the middle and lower pectorals, which are the most massive areas of the chest muscles.
The seated chest press machine is comfy for your body while allowing you to lift heavier weight with more control.
How To Do Chest Press Machine?
The seated chest press machine is comfortable for your body while allowing you to lift heavier weight with more control. In this exercise, the movement comes from the shoulders and elbows.
Starting Position:
Sit down in the seat with the head, shoulders, and feet firmly secure.
Grip tightly and keep upper arms parallel to the floor.
Do not bend at the wrist, keep them stiff.
Align bars at the nipple level of the chest.

Upward Phase:
Remember to keep upper arms parallel to the floor.
Keep wrist stiff as you extend elbows ours in front of you.
Stop just shy of full elbow extension to prevent injury and keep tension on muscles throughout the motion.

Downward Phase:
Allow handles to move slowly back in place.
Do not allow them to drop as injury could occur.
Stop handles movement once just shy of the starting position to keep tension on the chest muscles.
Chest Press Machine Price
Request a Quote from NtaiFitness, Quotations are valid for 30 days from the date of quotation. Please call us, Your call is always welcome!